Looking for a delicious dinner out in downtown Austin near incredible Tarrytown Austin real estate? Check out the recommendations below! These restaurants all offer amazing menus that will tantalize your taste buds. If you're looking for a great night out on the town, then these are definitely the places to check out.
If you're craving Mexican, look no further than ATX Cocina, located at 110 San Antonio St, Ste 170 in Austin. Reservations can be made
online
via OpenTable. Dinner is offered Sunday through Thursday from 5-9 p.m. and on Friday and Saturday from 4-10 p.m. Happy Hour is offered Sunday through Thursday from 5-6 p.m. and on Friday and Saturday from 4-6 p.m. Start your meal with options like the Beef Huarache or Molotes. Choose an entree from the numerous options like Hamachi, Pulpo y Chorizo, Roasted Bone Marrow & Brisket, and Carne Secreto. For happy hour, check out the restaurant's extensive drink menu, featuring options like the La Cura cocktail, Coco Loco, and a wide variety of options for tequila, mezcal, sotol, bubbly wine, white wine, red wine, vodka, scotch, gin, rum, cordials, bourbon, and beer.
Located at 117 W 4th St in Austin, the Capital Grille offers lunch during the workweek from 11 a.m.-4 p.m. and dinner from 4-9 p.m. On the weekends, the restaurant does not offer lunch and opens for dinner at 5 p.m. Dinner is served until 10 p.m. on Saturday and 9 p.m. on Sunday. The lounge is open from the start of business hours to closing. Reservations can be made
online
.
The lunch menu includes appetizers and soups like the Lobster Bisque and Pan-Fried Calamari with Hot Cherry Peppers, salads, and sandwiches, like The Capital Grille "Cobb" Salad with Sliced Tenderloin and the Ribeye Steak Sandwich with Caramelized Onions and Havarti, and entrees like the Sushi-Grade Sesame Seared Tuna.


For dinner, start with an appetizer like the Jumbo Lump Crab Cocktail or the Prosciutto-Wrapped Mozzarella with Vine Ripe Tomatoes. If you prefer, you can select a soup or salad, such as the Caramelized French Onion Soup or the Burrata with Heirloom Tomatoes.


For your main course, there are several categories from which you may choose: Chef's Suggestions, Main Courses, and Seafood. Chef's Suggestions include options such as the Sliced Filet Mignon with Cipollini Onions, Wild Mushrooms and Fig Essence, or the Seared Tenderloin with Butter Poached Lobster Tails. Selections from the Main Courses section include options like the Double Cut Lamb Rib Chops and the Dry Aged NY Strip au Poivre with Courvoisier Cream. If Seafood is your preference, choose from selections like the Seared Citrus Glazed Salmon and Pan-Seared Sea Bass with Miso Butter. You may also choose sides for everyone at the table to share, like the Parmesan Truffle Fries or Sam's Mashed Potatoes.


To end your meal, be sure to try The Capital Grille Cheesecake or one of the other delicious dessert options.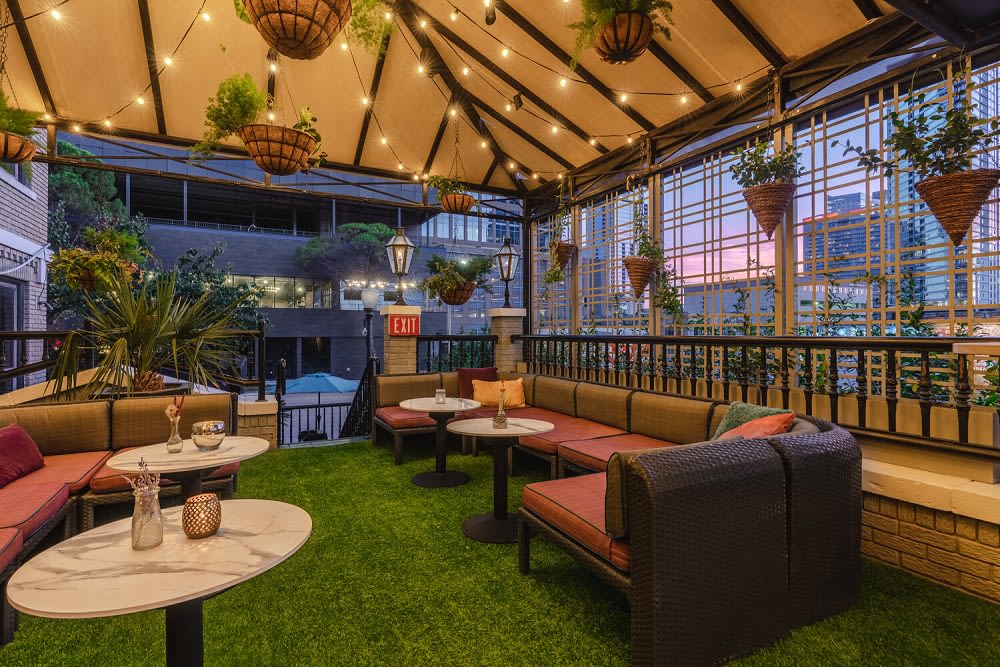 Devil May Care is perfect for when you want to enjoy a show with your meal, and the restaurant can be found at 500 W 6th St Ste 100 in Austin. Jazz fans will want to stop by on Wednesday evenings for performances from a jazz trio and for dinner offered between 5-10 p.m. Reservations are highly recommended and can be made
online
. If R&B is your preference, be sure to reserve a table for Thursday evenings.
Dinner is offered Wednesday through Saturday from 5 p.m. onward with musical mixes from local DJs. Even Sunday Brunch is also accompanied by a DJ, starting at noon and running until 3:30 p.m. Happy Hour is offered Wednesday through Friday from 5-6 p.m. The restaurant enforces an "upscale dress code," so be sure to call ahead if you are unclear on what clothing is acceptable.


For dinner, start your meal with options like the Bulgur Wheat Falafel, Kaluga Caviar, and (our personal favorite!) the Hummus, which you can customize with your choice of specialty add-ons. If you would like to share your meal with your dinner guest, choose from selections like the Raw Platter, the Charcuterie Cheese & Meats, or the Round of Lamb. To end your meal, try the Baklava or the Chocolate Mousse.


You'll want to make sure to check out the signature cocktails as well, including Hellfire and Oaxacan Last Word.
Located at 301 E 5th St in Austin, Eddie V's is open daily from 4-10 p.m., with the exception of Sundays when it closes one hour earlier, at 9 p.m. Enjoy happy hour Sunday through Thursday between 4-6:30 p.m. Reserve your table
online
. Every meal at Eddie V's Prime Seafood is accompanied by live jazz, which makes for a lovely date night or special occasion dinner.
The dinner menu includes multiple categories: Shellfish, Appetizers, Second Course, Prime Seafood, Premium Hand-Cut Steaks, Indulgences, and Sides. Shellfish selections include East Coast Oysters and The Shellfish Tower. Select appetizers from options like Maine Lobster Tacos and Kung Pao Calamari. From the Second Course category, choose items like the Burrata and Beet Salad or Iceberg Wedge BLT. The Prime Seafood category includes options like Parmesan Sole and Mediterranean Branzino. If steak is your preference, choose from options like the 18-ounce USDA Prime Bone-In New York Strip or the 8-ounce Center Cut Filet Mignon and Premium South African Lobster Tail. Select entree add-ons from the Indulgences category, like the Parmesan and Horseradish Crust or the Three Georges Bank Scallops with Brown Butter. Sides include Butter Poached Lobster, Mashed Potatoes, and Crab Fried Rice with Mushrooms and Scallions. To end your meal, indulge in a treat like the Hot Chocolate Godiva Cake or the Fresh Seasonal Berries.
Located at 607 W 3rd St Ste 105 in Austin, Hestia is named after the Greek goddess of the hearth. The restaurant is open Tuesday through Thursday and on Sundays from 5:30-10 p.m. and on Fridays and Saturdays stays open one hour later. If your party includes seven or more guests, you must make a
reservation
. For all other parties, reservations are recommended but not required.
Start your meal with the Pan de Cristal bread service, snacks like the Milhojas or Smoked Custard, or small plates like the Sunchoke or Hearth Roasted Beet. For your entree, make a selection from Berkshire Porkchop, Lion's Mane Mushroom, and more. To end your meal, be sure not to miss the desserts, including Spiced Kabocha Cake and Rosemary Apple Kakigori.
Simi Estiatorio can be found at 601 Congress Ave Ste #110. The restaurant offers a fine dining experience around Greek cuisine. Simi welcomes guests Tuesday through Saturday between the hours of 5-11 p.m.
Reservations
are recommended and can be made through Simi's website.
Appetizers include Simi Chips, Shrimp Casserole, The Spreads, and more. If you like to enjoy a salad before your meal or as your entree, choose from the Greek, Pligouri, and Marouli options. As for your main dish selection, choose from options like the Swordfish Souvlaki, Lavraki, Paidaikia, and many more. As your entree's side dish, you can select from Spanakorizo, Grilled Asparagus, Roasted Lemon Potatoes, and Greek Oregano Fries.
Located at 501 W 6th St, TenTen offers modern Japanese cuisine starting at 5 p.m. daily. The restaurant closes at 9 p.m. Sunday through Wednesday, 9:30 p.m. on Thursdays, and at 11 p.m. on Fridays and Saturdays. Happy Hour is offered during the workweek between 5-6 p.m. and features half-priced beverages as well as select food items. Valet parking is available for $12 from 5:30-10:30 p.m. Sunday through Wednesday and stays open an hour later the rest of the week. Reservations for parties of five or fewer can be made
online
, but parties of six or more must
reach out to TenTen via email
.
For your meal, start off with Miso Soup or other starter options. Enjoy Nigiri like Akami or Madai, or upgrade to premium options like Uni or Sake Toro. You can select either Salmon Crudo or Hamachi Carpaccio under the crudo category. For the maki category, select from options like the Spicy Tuna and the Snow Crab. If you prefer sashimi, select from options like Hamachi Toro or Sake. Other entree plate options include Short rib, Wagyu Beef Tenderloin, Pork Chop, and more.
Looking for Barton Creek real estate?
Homes for sale in Barton Creek and Tarrytown give residents easy access to the incredible dining scene in Downtown Austin. For additional dining recommendations or to begin your search for a new home, contact
Alexandria Murphy
today.